New-model equipment
A. Steel structure: The structural elements are all designed in components; high-strength C-shape steel and angle steel are punched and prefabricated at factory; the components are all hot-dip galvanized to be corrosion resistant; they are fast to assemble on site and excellent in weather-proof property.
B.(1) The motor is energy saving and with mechanical internally-controlled positioning; accuracy of positioning is not affected by the weather;manual operation allowed during power outage; highly weather resistant.
(2) Reciprocal chains: highly stable steel wires; combination of transmission.
C. Rain shelter:Its mobile frames are made of light-weight yet high-strength aluminum pipes; its canvas uses the material that has high toughness, is UV-resistant and fireproof (flame retardant) and keeps rain off.
Outer dimension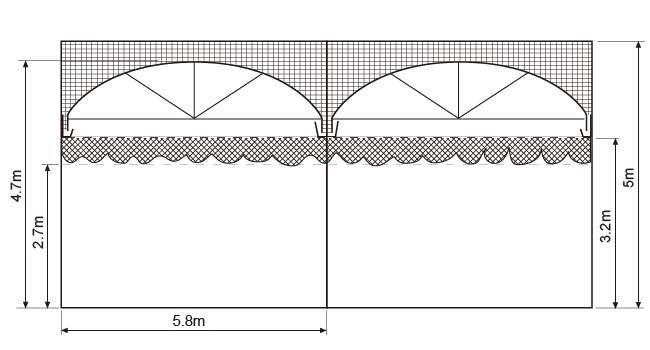 Techniques
Turn-key technique of three-tier automatic canopy

Fast updating of media preparation and growing techniques (each harvest saves 3 weeks of time; at least two harvests a year enabled)

Updating media bags:old branches are removed after production and sterilized (completed within one week, saving three weeks compared with traditional exercise); harvest is made three weeks earlier than traditional exercise after planting.

A special management of growing is developed, including irrigation, temporary planting of seedlings and trim & determinate in a timely manner.
Provides complete SOP (covering 60%, the remaining 40% to be adapted by region)
Others: including the techniques of reuse of old media after planting, application of micro-media, application of off-ground growing with media, growing devices & know-how, instant adjustments & control (supply of liquid nutrients and water)
Characteristics
Production is possible all year round
Conserves energy (power consumption by the facilities)
Power consumption at 200HW/hr/month
Production resume approved
Complies with safe agriculture specifications
Automatic Canopy—A multi-function combo facility
Rain shelter Automatic Canopy
No temperature build-up

Good ventilation

Fast deployment & collapsing
Shade Automatic Canopy
Shade control

Cools the air

Fast deployment & collapsing
Keeps off birds and insects
No temperature build-up

Good ventilation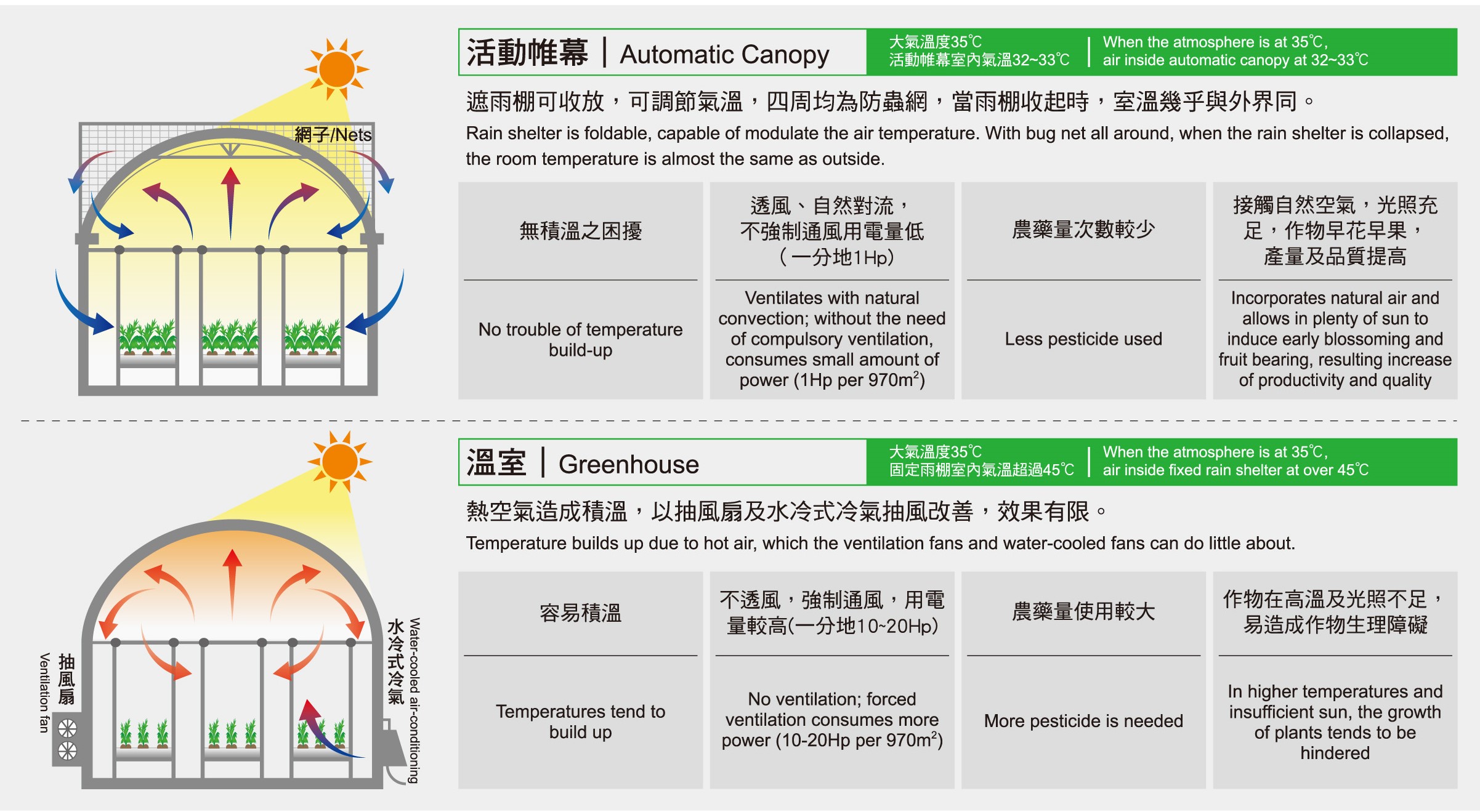 Rain shelter Automatic Canopy